Hi! I'm Alan.
I'm a Physical Therapist working in Hamilton, Ontario. In addition to my physio degree I also have a research based Masters Degree in Rehabilitation Science. This means I'm really interested in what is known as 'evidence based practice'. Translated to English that's treatment based on quality evidence, my own clinical experience, and the preferences of the people I treat.

​I'm passionate about empowering and coaching people as they recover from injury, return to activity, and reach their movement goals.

In this blog you'll find me self-indulgently geeking out over topics such as rehabilitation, active living, return to sport, and the odd sprinkling of what I'm listening to.
When not in clinic you can be find me in and around Hamilton with my family, zipping past on one of my bikes or on foot, picking things up and putting them back down in the gym, or sipping strong coffee out of really tiny cups.
Powered by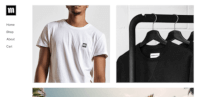 Create your own unique website with customizable templates.